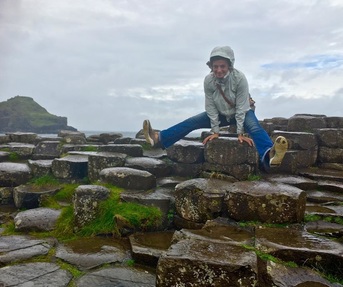 Yoga at the Giants Causeway
The summer has been busy for me with lots of work and of course tonnes of cycling. One final sportive before the end of season, I headed to Northern Ireland in September to complete the Giant's Causeway sportive.
​
I drove up in very awful conditions but not to be deterred I took a trip out the Causeway itself. Lots of people are disappointed by the size of the Giants Causeway but I don't mind. It is what it is and it is worth a visit in my estimation. The first time I went there many years ago the waves were pounding off the rocks and we were drenched in sea spray. This time we had to endure a wind tunnel. It was very hard to walk upright, battling gusts and being dragged across the road. I was on my feet by the way not my bike! There is a little bus if you're already unsteady on your feet.  Still it's worth a photo stop and you can't really visit Northern Ireland and not go!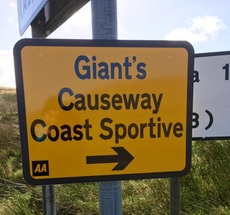 ​I had been very busy all week so I arrived in Antrim with no notion of what I was cycling, where I was headed or what to expect! Usually I would read the official website, look at the route and the elevations but time just ran away for this one. Luckily I rang a friend on the way up  who has done the sportive numerous times and she warned me to only to do the 126km route. The 180km would be a big ask especially with Torr head at the end. She kept coming back to Torr head, saying it was tough, it goes up and up some more… to be honest, I have cycled up the Alps so didn't really pay attention.  How hard can it be?
It's not often I listen to anyone but I was very glad that on this occasion I did. 126km was more than enough. The route is hilly enough and then, having already cycled 103km the fun begins! Or not, I'm still not sure how I feel about it.
Have you ever been on a roller coaster? At the start it chugs up almost vertically and your mouth goes dry. Then it drops considerably along with your tummy. That was the first bit. I don't know how I had never heard of this climb until the day before. Even cycling in the Alps I don't remember any of it being this bad.  This Torr hell was relentless. 17 kilometers in total. I would climb up a very steep aspect, it would get a bit level and then it would go up again.  I don't know. It seemed to go on and on. Parts are 23% gradient, (that's steep!)  I honestly thought I would just fall over. My arms and abs were killing me later from pulling so hard on the bike. My front wheel kept lifting off the road in an unprovoked wheelie. The views were lovely though, looking up and up and up at a wall ahead with little tiny cyclists. Thankfully the weather was being kind to us so that was something. I had to dig deep and get up this wall. I found my inner Serena Williams, I was grunting and shouting good-oh, along with some fine sailor swearing it seemed to help no end! Certainly made the guys around me work a bit harder, they thought I was shouting at them!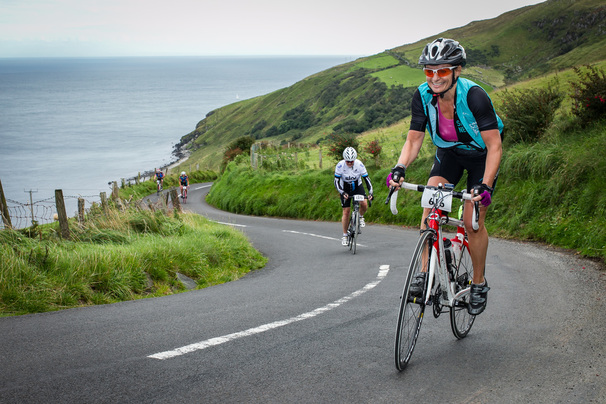 Grinding my gears on Torr Head
The part of the climb that nearly broke me was when I thought it was over. It had leveled out and seemed like a natural finale. I always look for the top tree / telegraph pole, there was nothing else higher. Then, there, pinned to a fence was "King of the Mountain starts here." I actually screamed at the top of my lungs "AGH F*** RIGHT OFF!!" It meant there was another climb and this section was timed.  No amount of obscenities was going to make this one go away.  Like the lovely demur, classy lady that I am I remembered cycling rule #5, "Man Up." I grew a proverbial pair and got stuck in there.
Not sure how long that stretch was but finally I saw the "King of the Mountain ends here" and that was it done. Some of my group were waiting for me here, others were still behind me. I actually couldn't stop and had to ask the lads to hold the bike still while I fell of it in a heap. One of the chaps was white and looking like he might vomit. My little legs were shaking and I was drenched in sweat. The good news was though we only had 6 kilometers left to the finish. Downhill. The pictures and write ups don't do the climb justice at all, if you want to experience it, get in the car and go. If you're a cyclists and you intend on cycling it,  pack a swear jar.
So the season closed for me on a very steep high. It was tough but I am very  glad that I took on the challenge. another box ticked, another new place visited.
The winter now is just about getting out there, doing a bit of training and battling the elements that the lovely Irish winter will throw at us!
Escape the winter with me.
Join my Warm Weather Winter Training Camp, March 2017.
Cycle in the warmth of Spain and tackle the climbs of the Sierra Nevada.
​More information
here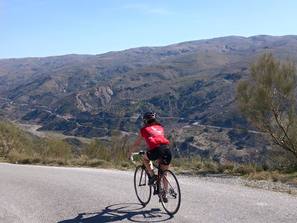 ​
Sinéad
About the Author:
Sinéad Kennedy is a Physical Therapist, Yoga Siromani and Pilates Instructor, based in South County Dublin. She treats and teaches people from all walks of life, including many athletes, especially cyclists, runners and golfers. Recently featured in the Irish Independant, FIT Magazine, her 
Yoga 4 Cyclists
 class has gained notoriety. 
A keen cyclist and proud member of Orwell Wheelers she has completed numerous cycling events including La Marmotte Sportive. Sinéad has also completed three Dublin City Marathons, numerous Adventure Races, Half Marathons and the Camino de Santiago.