Being both chesty and sporty is possible provided you have the correct support. I had to rethink my own underwear, especially when it came to wearing racer-back sports bras.
​
They hurt me!
After years of being a dedicated racer-back girl I have been converted back to "normal" straps. The difference: I no longer have shoulder and neck pain.
​
The pain started in my left shoulder after I did an exceptionally long cycle. My legs and the rest of me were fine but my left shoulder was in rag order. My right shoulder was not much better to be honest. Being a
Physical Therapist
I treated my pain with rest firstly then gentle work with massage balls. I went to a friend for physical therapy and dry needling. I was in bits.
​
The agony in my left shoulder would ease for a while and then come back with a bang. In my yoga practice I did everything I could to tease out the muscles and relieve the pain. There was no problem with mobility, it was just a very deep boring pain, a nag that just wouldn't go away. Pain is exhausting too, it wears you down and makes you cranky, I admit it!  I would have paid someone to come with a knife and just cut out the pain.
​
I have worn high impact racer-back bras for years. Especially as I am a chesty girl, I'm small in my frame but have it all going on up front! I like good support and sturdiness.   I wear lots of lovely racer-back yoga tops so having two great big bra straps in the wrong place just wasn't the look I wanted. I always thought people who did that were a bit mad to be honest!
However, my shoulder just kept nagging me. My long cycles were becoming a problem, I was constantly moving and stretching my neck and shoulder. My legs never give out but this left shoulder of mine was on overdrive. I was taping it up, popping pain killers occasionally, using heat, stretching the heck out of it, doing yoga and wearing out my massage balls!
​
Then the pins and needles started….
You need your hands to work. It's helpful for holding forks, pens and getting dressed! I knew I was in real trouble now. Pins and needles were now radiating down my arm and my fingers were tingling I actually couldn't change gears or brake properly on my bike one day.  Nerve compression. This pain was taking its toll however. Then it dawned on me.
​
My racerback bra was the big 
problem….
My trapeziums muscles and their nerve supply were being compressed by the straps. These are the spongy muscles at the top of your shoulder,  they go up into your neck and meet your other neck muscles.  If you sit at a desk a lot you probably try and massage these out with your fingers tips. My neck was under pressure from my bra straps being too near where your neck and shoulder meet (upper trapeziums and levator scapulae). Basically my shoulder and neck were being starved of circulation and I was suffering from compression pains. The crisscross  straps were restricting my shoulder blade too even though they were not digging in or super tight.  Hours sitting on my bike,  my desk, teaching classes and working in racer-back bras were literally taking their toll on me. I was in a lot of pain. I needed to get back to basics and ditch vanity.  A good old sturdy, normal strap, sports bra was required.
---
Photo 1
You can see the crisscross is in the middle of my spine, the straps cross the shoulders vert close to my neck causing a disruption in circulation and nerve supply. The lower straps are also restricting the movement of my shoulder blade even though this bra fits correctly. The weight of my  chest and trying to keep it supported with a racer back was causing my pain.Photo 2 & 3
"Normal" bra straps are away from my neck, do not cross my spine and my shoulder blade can move freely.
BRA SHOPPING
Whether you are chesty like me or not, it is important to get properly measured for all your bras. It really does depend on the cut and shape of the bra too. Like any clothing item nothing is standard. Ensure that your bra is nonrestrictive around your ribs too. If your passing out and have a lot of spillage your bra is too small. No matter your fitness it is essential to get all your bras right, sport and day time. The cups should sit comfortably on your chest with no gaps or cutting in. Talk to the bra expert in your local department store. They really are super helpful and highly trained.
I hate shopping for anything especially underwear. I had surgery on my chest 25 years ago so buying bras is not that simple for me. It's even worse now for all of us now we can't try on anything! All I can suggest is that you buy as many as you can, go home (or to the shop loo with mirror) and try them on. You can bring them all back the next day. Sorry but I can't see any other way to bra shop right now due to C19. If you have a better idea please feel free to comment.
​
When you are active you need good support, comfort, durability and breath ability. Plus there is always value for money and machine wash ability. NO, I don't hand wash anything, life is too short for that!
​
I shopped around a lot (pre Covid) and found a really great sports bra that fits me perfectly, it has "normal" hook straps. It is built up giving me support especially for running in too. It's "pretty" enough for a sports bra but most of all it is comfortable and I am pain free.  On non sports days I continue to wear "normal" straps and in the evenings I try to  wear just a soft supportive vest top to give my shoulders even more of a break.  (The bra in the photo is from Dunnes Stores – not an endorsement)
My shoulder and neck aches have subsided and I am no longer tearing the shoulder off myself with massage balls. I am so much more comfortable on my bike and my pins and needles have disappeared.  I still continue to get physical therapy  and a massage every 5/6  weeks just for maintenance as I am so active. My neck also feels great and so much more mobile.
I know I look a bit stupid with my straps outside my racer back top and I run the risk of getting strap marks when the sun shines (which for me is worse than any pain in the neck!) But, it's so worth it. To be comfortable, pain free and able to sleep without this deep, boring, achy pain in my shoulder is worth more than vanity.
I ended up buying two more of the same bra. If I find something that fits, is comfortable and does the job I just buy more of them leaving me more time to train, cycle and go on holidays!

​Are your neck and shoulders sore? Full of knots and tensions? Give your body some TLC and book and appointment for Physical Therapy.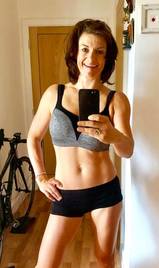 ​
Sinéad
About the Author:
Sinéad Kennedy 
is an author, Wellness Coach and Solo Travel Expert. 
 She is also a 
Physical Therapist
, 
Yoga
 Siromani , 
Pilates
 Instructor and founder of Body Blitz Bootcamp and Yoga for Cyclists. Based online and in person, in both Rathfarnham and Dundrum, South County Dublin. She works with people from all walks of life, helping them to have the courage and correct tools to make positive changes in their life.
As a Physio she also works with many athletes, especially cyclists, runners and golfers. Recently featured on the
Elaine Show
,
Today Fm
,
Newstalk
as well as the
Irish Independent,
FIT Magazine and
2FM
. You can follow her on 
YouTube Channel
 &
Instagram
.A keen cyclist and proud member of Orwell Wheeler's she has completed numerous cycling events including Tour delle Dolomiti,  Alto de Letras, Les Cinglés du Mont Ventoux & La Marmotte Sportive. She is an accomplished audax-er having done numerous 200km and 300km routes. Sinéad has also completed three Dublin City Marathons, numerous Adventure Races, Half Marathons and more recently the Art O'Neil Challenge.