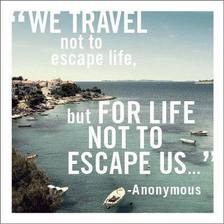 I have been all over the world, travelled to far flung reaches of the globe with just a few tshirts and a travel guide.
People always say "oh aren't you great!?"
"Aren't you brave?"
My favorite is "I wouldn't be able to that!"
Do what exactly?
Get on a plane and arrive somewhere new and fabulous? It's not hard at all, well I don't think so. Sure it takes a little planning, a little bit of gumption but so what? Most of my friends are settled down, have commitments that won't allow them the freedom I am fortunate enough to enjoy. Some don't have the money and for the most part, they just don't want to go to the places I want to.
So what are the choices? Go nowhere and live my life dreaming of far off shore or get on with it and go it alone
I choose to go it alone every time!
Not all of my solo expeditions have been that exoctic or that long haul, in fact I am just back from a really great few days in Portugal. I went to the Tiny Whale Surf and Yoga Camp where I enjoyed stand up paddle boarding, yoga classes and time out by the pool and beach.
I met lots of lovely other solo travelers who like me just fancied a bit of sun and respite from the temperamental summer of northern Europe. A very friendly and enjoyable few days, I actually forgot I was there alone!
The great thing about going on a trip with some activity is that you will most definitely meet like minded people. Not only that, the ice is broken as you will be discussing the day's activity / achievements  and the conversation flows freely. Voila! No more alone, new friends on the horizon.
So if like me, you find yourself short of travel companions and are a little apprehensive about going solo, let me tell you the best part about solo travel.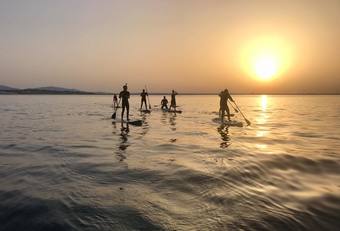 Sunrise Stand Up Paddle Boarding Group excursion
You make the rules! You get to choose the destination and the travel arrangements. No waiting on people to get holiday approval from their boss/ spouse. Waiting on someone to make up their mind can be draining. You can pick the most fabulous place, the dates that suit you and best of all you don't have to compromise!
You set the budget. I decided on a bit of a whim to head to Portugal so my budget was limited. I decided to stay in the dorm that was offered. It was only a few nights and I really didn't care. It ended up being great fun to be honest. Whether you choose five star or a tent it's your choice, your money so there is no need to apologise to anyone. Single supplements can be an added expense but you can budget for it by choosing cheaper flights. Cut costs somewhere else on the trip. So what, you might have to fly at stupid O'clock, you're your own boss and won't have to listen to anyone complain! You won't need to spend extra money to sit beside someone either!
Activities are fun and they break the ice for you.  I can't imagine going on a solo holiday for two weeks to some apartment by the beach. Chances are you will be lonely, find it difficult to strike up conversations with people without looking like Larry looser. Go on a trip that offers some sort of activity  so that you can meet like minded people. It doesn't matter if its card games, sport, museums or cookery classes. Do what you enjoy and you will find others there doing the same thing. Conversations flow freely, you can arrange dinner plans as a group, you might find there is an extra excursion planned by others and get an invite. Honestly, solo travel sometimes turns into a hectic social whirlwind! My recent trip to Portugal has resulted in an invitation to Helsinki. Making new friends from around the globe is by far and above the best and biggest advantage of solo travel.
Flexibility. You just found out about a beautiful town to visit not far from where you are, no problem! Change of plan and off you go. Meet the locals, stay as long as you like, it's your choice. You can eat when you want and eat what you want. Solo travelling also gives you the budget control you may need. Very often I spend much less on solo trips than I do on my other trips. There's less coffee stops, I am not tempted to have dessert and some days I will skip lunch. It's totally up to me.
Solo travel boosts your confidence and makes you stand on your own two feet. It's liberating to travel alone, to push yourself out of your comfort zone and experience different cultures. You have to problem solve, deal with delays, look out for yourself and get on your street smarts.
You have you. Most people don't like being alone or can't handle it. I love traveling alone because I can  switch on and off as I please. It's ok to turn down a dinner invite from your new acquaintances if you don't feel like going . You can bury your head in your book or stick on your headphones as you see fit. On long haul flights you can watch all the crap movies you like and not feel the need to entertain someone! Its pure indulgence for yourself and your mind. Think of all the interesting and funny stories you will have to relay when your home. Life is a series of experiences, who wants to get to the end of their life to realise they haven't lived?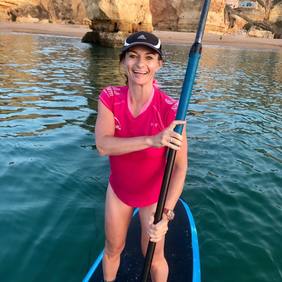 So you see, there is no need to be brave. You just need to research a hobby or interest that appeals to you. Something that you wouldn't mind doing on holidays. I have gone to India on Yoga holidays, Cycling in Spain, Stand up paddle boarding in Portugal and the Inca trail in Peru to name a few. The world is out there waiting for you to explore and experience. So why not dust off your passport and give it a shot? You will never be sorry that you travelled solo, only sorry that you waited so long to try it!
Fancy an activity holiday? I have two trips coming up which are full of like minded people and mostly solo travellers.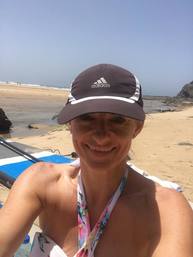 Sinéad
About the Author:


Sinéad Kennedy is a Physical Therapist, Yoga Siromani and Pilates Instructor, based in South County Dublin. She treats and teaches people from all walks of life, including many athletes, especially cyclists, runners and golfers. Recently featured in the Irish Independant, FIT Magazine, her 

Yoga 4 Cyclists class has gained notoriety. 

A keen cyclist and proud member of Orwell Wheelers she has completed numerous cycling events including La Marmotte Sportive. Sinéad has also completed three Dublin City Marathons, numerous Adventure Races & Half Marathons. Travelling the world is her biggest passion in life!