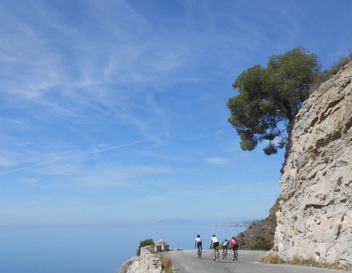 Do you want to cycle in the warmth?
See some sunshine?
Experience unbelievable roads and climbs?
If like me you're a keen cyclist you will be out cycling all winter. Being battered by the wind, rain, cold and soggy conditions is no mean feat. It does make you "man up" though and come the summer season all those hard earned miles pay off.
There can be a reward though,

ESCAPE THE GLOOM

, it's only 90mins away from Ireland and the UK.

Join my winter training camp and cycle all week. 
Cycling in Spain. It is really that simple and it's manageable.
1. The Weather
We all know what Northern Europe is like in winter. Dark, dreary, cold and wet. Who needs that? I certainly don't. Southern Spain in March is typically 19-26 degrees. Dry and sunny. You will get tan lines. All you need are some arm warmers for the mornings if that. Don't forget your sunscreen.
2. The road surface. 
Unlike Ireland where the road surface can be badly damaged from the elements, the Sierra Nevada in Spain has roads like glass. You glide across the tarmac. You are simply a better a cyclists, faster and stronger. They roads do not take their toll on your body the way any Irish cyclist knows.
3. Climbs and technical descents. 
If you love you to climb look no further. Learning to pace yourself, keeping a steady heart rate, building endurance and stamina it's all in a week's work in the Sierra Nevada. Technical descents with switch backs for a bit of fun. Improve your bike handling skills and get over your fear of speed.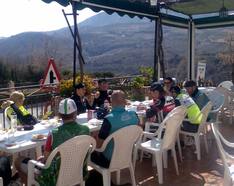 Bonus reason!
It's so cheap! Stopping for coffee and a great big crusty ham and cheese roll will set you back €3-€4 tops. Three course meal with a drink will cost €12.50. Flights are also very cheap, at the moment return flights from Dublin to Malaga are just €116. 
What are you waiting for?
Join me 11-18th March 2017 for a week of amazing Cycling in the Sierra Nevada. We even have four Yoga for Cyclists classes during the week to keep you in tip top condition.
Places are limited so get in touch asap to avoid disappointment. 
​
Sinéad
About the Author:
Sinéad Kennedy is a Physical Therapist, Yoga Siromani and Pilates Instructor, based in South County Dublin. She treats and teaches people from all walks of life, including many athletes, especially cyclists, runners and golfers. Recently featured in the Irish Independant, FIT Magazine, her 
Yoga 4 Cyclists
 class has gained notoriety. 
A keen cyclist and proud member of Orwell Wheelers she has completed numerous cycling events including La Marmotte Sportive. Sinéad has also completed three Dublin City Marathons, numerous Adventure Races, Half Marathons and the Camino de Santiago.