You had the power all along my dear. You just had to learn it for yourself-
Glinda, the Good Witch of the South. 
Are you ready to find your super power by standing in your own shoes?
There is no place like home, however I am not talking about home your abode, your little corner of the world. While our residential address is super important our most valuable piece of real estate is our mind. That is our real home, our authentic, true self. You see, what goes on in our head makes up our external reality.
​Our thoughts and beliefs can either restrict us or send us on our path to success. Henry Ford once said "whether you think  you can or you think you can't, you're right."
​
BELIEFS
There it is in a nutshell. Self belief. What do you think is not available to you? Who told you that you cannot have it/ be it? Are they even your beliefs? Were you told growing up that you were stupid/  lazy/ no use? Perhaps you were made to feel selfish if you asked for anything for yourself. Have these negative phrases and memories been embedded in your psyche and how are they shaping your life? How happy are you living someone else's beliefs?
There is no doubt about it, fitting in with society's expectations is a lot easier than being the odd one out. But just who are you clipping your wings for exactly? How does you playing small benefit anyone  really?  It's time to be you, your best authentic self. Spread your wings and if they burst through the roof so what! Have the courage to be you. We are only on this earth for a limited number of years and I can guarantee you that no one on their deathbed ever regretted having fun, enjoying themselves, being a little childish, having amazing memories and experiences.
​
THE ARENA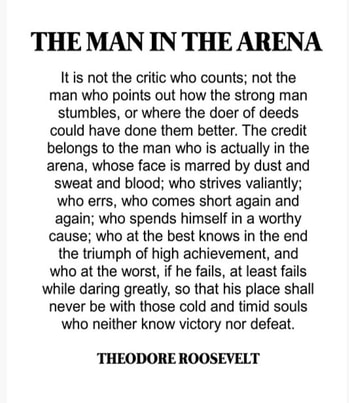 I love listening to Brene Brown, she is a research professor in the University of Houston, Texas. She is a number one best selling author but more importantly she has spent her career studying shame, vulnerability, courage and empathy. I personally love her, she has given me many pearls of wisdom and I want to share them with you. I love her straight talking no nonsense approach too, it's very relatable!
Watch her TED TALK, 11 million other people have!
Brene found a quote from Teddy Roosevelt, (U.S President) which is about the man in the arena. In short, if you are on the pitch playing the game, taking part then great. You're living life and aiming high. Sure there will be wins and there will losses, highs and lows. What is important is that you had the courage to get out there and try.  Never listen to the hecklers in the audience. They are not in the game. Your only equals are the other competitors on the pitch with you. Those taking part and taking the knocks.
So what does that mean for us "normal joe soaps?" It means do not get involved in gossip, do not let anyone put you down who has no clue how to be in the same arena. Think of yourself as a gladiator. Only mix with other gladiators. Life is full of hecklers. I used to love the Muppet Show especially Statler and Waldorf,  the two old men in box who would shout, sneer and jeer those on stage. Sure it was comedy gold, but in real life, it is pure toxic behaviour.
IN YOUR OWN SHOES
Brene also taught me about the wilderness. While I am lucky that I am not afraid to go it alone there are days I have my doubts too. Anyone who knows me knows I love to  travel solo and generally do things against the "norm!" I am always getting asked about "still no husband" but honestly, now I just laugh about it. It used to upset me, now I realise it's just the crowd trying to pigeon hole me and wanting  me to conform to society's expectations. (It makes them uncomfortable that I am free as a bird and take off whenever and wherever I want!)
Brene teaches that the wilderness means having the courage to walk alone, in your own shoes, to take the risks and reap the rewards. Being authentic. Knowing or at least trying to find your  true passion, purpose and living it.  Sure you might get the jitters, second guess yourself, you are human after all. Growth comes outside of our comfort zone. Are you willing to walk in your own shoes and find your own power?  Stand out from the crowd and be your true self?
It takes courage of course, even the simplest thing can require bravery. For some it might mean wearing that brightly coloured dress you have hanging in the back of your wardrobe, you loved it until someone rudely remarked on it. Upset, you never wore it again. It could be anything, big or small. Have you been wishing you could quit your job, set up a business, leave a relationship or get back out dating? Are you brave enough? What is stopping you?
When we are brave we have to acknowledge our vulnerability too. So when the hecklers jeer your change, notice something different about you, will  you let it go over your head and know that it is their issue. Or will you take their criticism onboard and clip your wings back further for someone else?
​
Soar
Honoring your true self is what being an adult means. It is self care, self love and emotional maturity. You owe it to yourself to live the best life you can. We hopefully have the maturity and courage to stand up for ourselves, to disregard cruel and cutting comments.  Can you see the insults and sniggers for what they are? The people passing comment are not in the arena. They are riddled with fear and want you to live in fear with them. Misery loves company as does guilt and shame. It is not your place to clip your wings to make them feel better about themselves. Soar.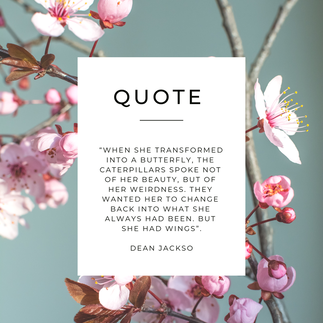 Standing alone in authenticity is your true super power. Knowing that you are incharge of your life and you write the pages. Some people will never expand past chapter one, they are incapable of living life authentically. Unhappily they will settle for less than they deserve and rot in frustration. These are not your people! They will fall away as you grow, that's the way it goes.
Who do you want to be? The person in the arena, the galient gladiator facing their fears, challenging themselves and occasionally getting it wrong? Or the critic sitting on the sidelines, watching life from the safety of the spectators stand, throwing heckles, jeers, sneers and rotten tomatoes!??
I used to live under the radar! I used to try and "fit in" with the crowd. Live up to society's expectations. The more I did however the more miserable I became. The crowd didn't have the same values as me, the same beliefs or ambitions. I didn't want their life choices. I knew deep down that I was settling for someone else's life.
What did I do to break the spell and find my wings?
I got brave and went to a Personal Development Coach.
Through my sessions I ditched my limiting beliefs, found my own shoes and off I went. Soaring! For me I wanted to work on my relationships with others. To become a better version of myself for myself. I stopped focusing on what others thought of me and I got real. Very real in fact about what I wanted and how I could achieve it. I did it and I know I can help you too.
I know that I can help you to ditch the beliefs that have held you back. I know that with some Personal Development Coaching you can turn any aspect of your life around. Whether its finances, relationships, careers, family, health and fitness. It all starts with you. You are the catalyst for change and it can be easy once you get going!
Let's do this thing! Get in touch and let's get you going .
​
Contact me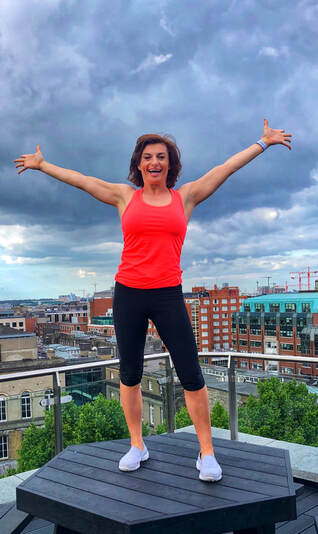 ​
Sinéad
About the Author:
Sinéad Kennedy is a Personal Development and Relationship Coach based in  Dundrum, South County Dublin. She works with people from all walks of life, especially those looking to improve their relationships. Recently featured on Virgin Media Ones Elaine show Sinead prides herself in having changed her own outlook on life for the better. Since investing in her own  Personal Development work her life has improved no end.
She loves to travel solo, write and take photos! Follow her on
Instagram here.
​
A keen runner and cyclist, she is a proud member of Orwell Wheelers. Sinead has pushed herslef in  numerous cycling challenges including The Alto de Letras, The Maratona dles Dolomites, Les Cingles du Mont Ventoux & La Marmotte Sportive. Sinéad has also completed three Dublin City Marathons, numerous Adventure Races and Half Marathons.